Rausu in Nemuro district, Hokkaido, is surrounded by the world class natural habitat of Shiretoko, a World Natural Heritage Site.
At the back of the Shiretoko-hanto Peninsula, which juts out into the Sea of Okhotsk,
is the Shiretoko Mountain Range. Rausu is on the east side and Shari is on the west side of the Shiretoko Mountains.
You can eat delicious fish from the sea of Okhotsk all year round, an abundant natural habitat with a thriving fishing industry.
The best attraction of Rausu is being able to encounter a lot of wildlife.
You can enjoy watching whales, killer whales and dolphins in the summer, and drift ice and bird watching in the winter.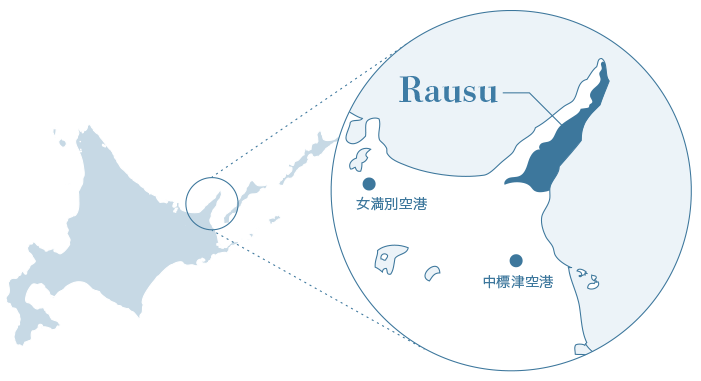 You can travel to Rausu through 3 airports in East Hokkaido, Japan Railways (the nearest station is JR Shiretoko Shari Station),
Akan bus, rental car, etc.
There are two ways to get to Rausu by car; one is crossing the peninsula through the Shiretoko Touge Pass from Shari, Utoro,
and the other is going up the peninsula from Shibetsu,
but the Shiretoko Odan Doro (National Highway Route No.334) through Shiretoko Touge Pass is closed from November until May,
so use National Highway Route No.244 from Shari via Konpoku Touge Pass instead.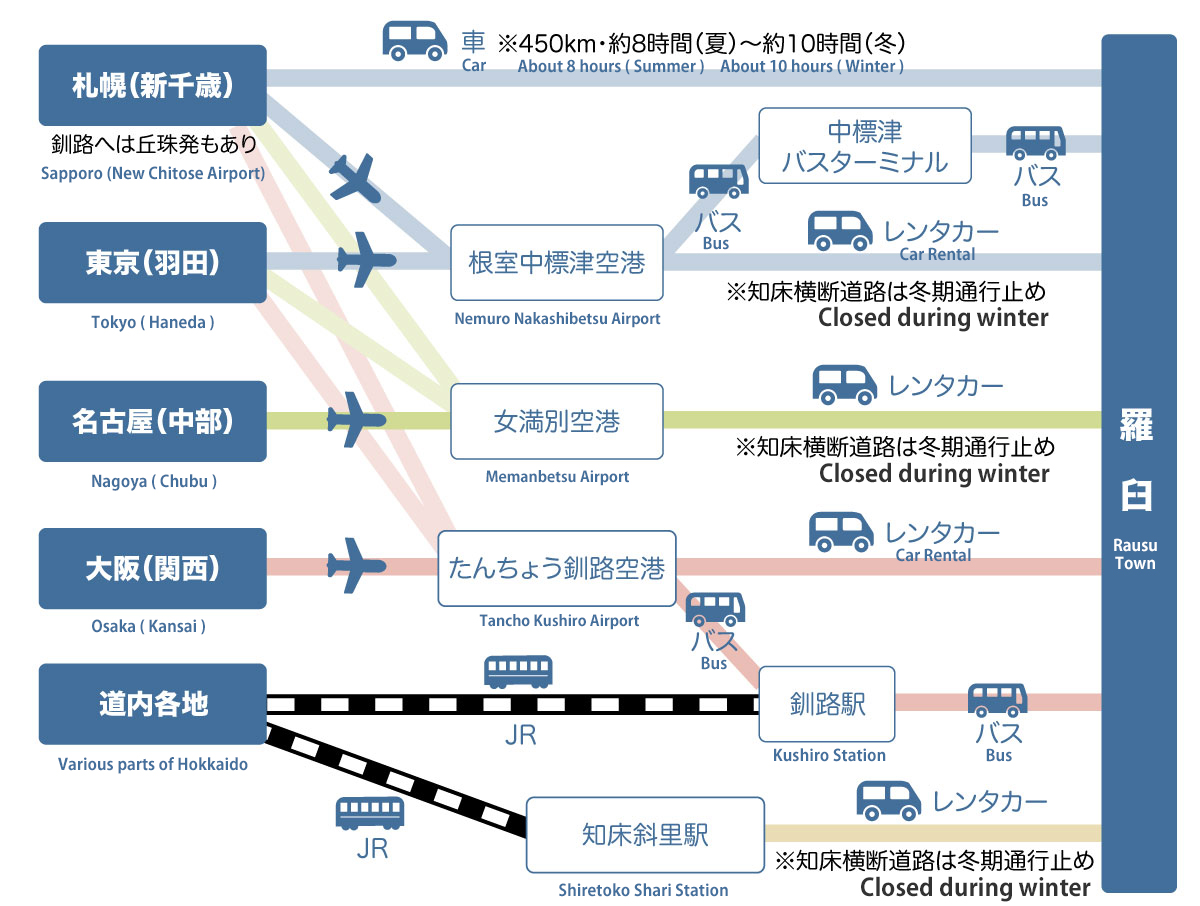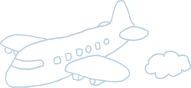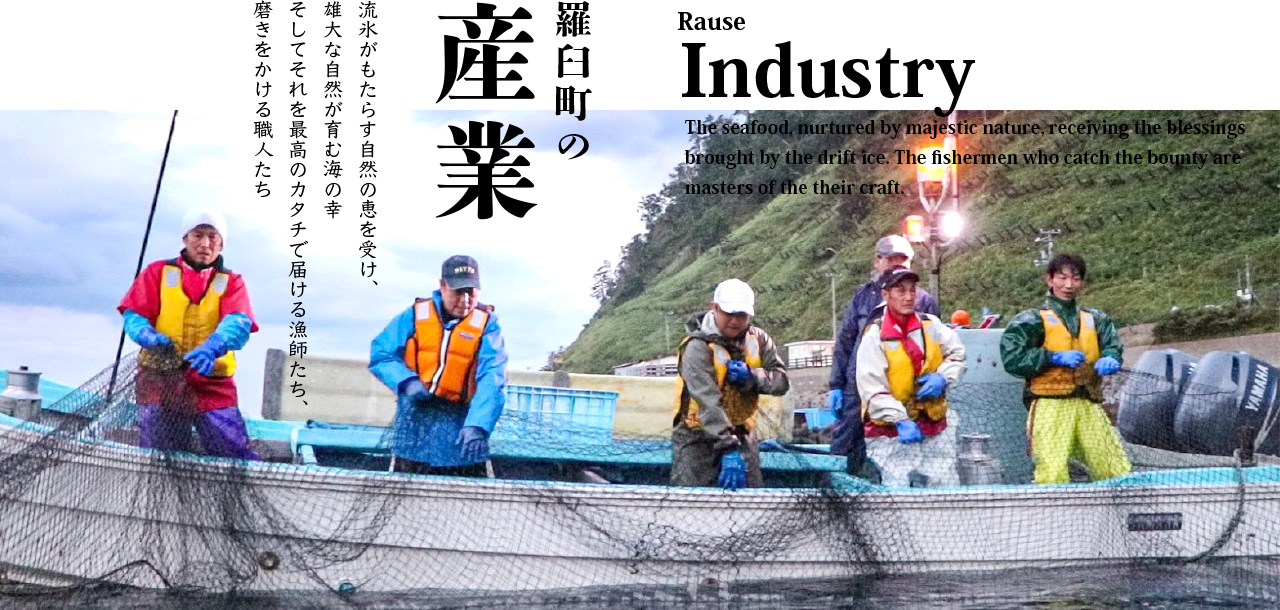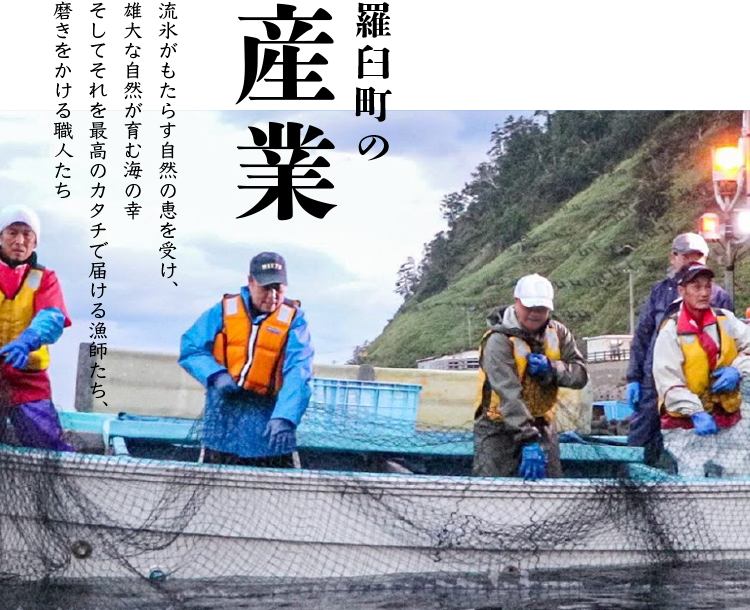 Rausu fisheries can catch a wide variety of seafood throughout the year,
making it one of the most abundant areas in the country.
There is Rausu kelp (Konbu), autumn salmon (Akisake), Okhatsk Atka mackerel (Hokke), Rockfish (Kinki), Cod (Tara), and short-spined sea urchin (Ezobafun-uni) and many other seafoods.
Shiretoko and Rausu's unique ecological and environmental efforts continue to draw attention from the world.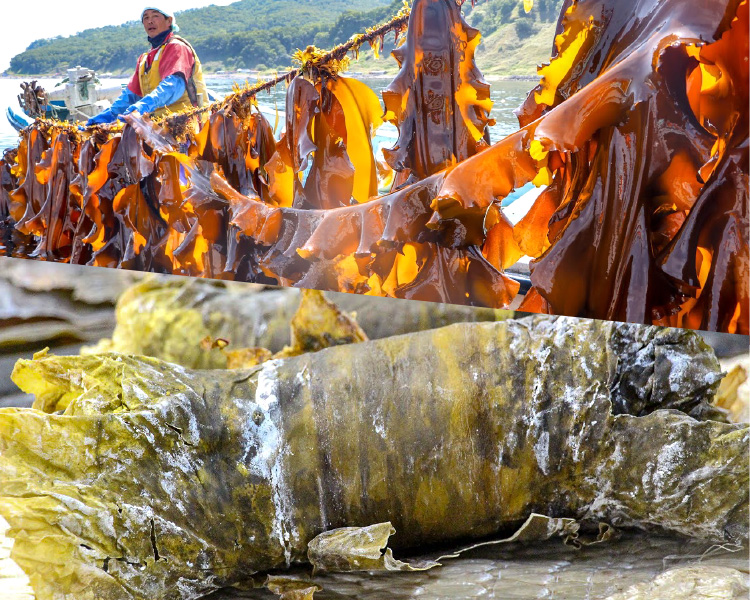 Cultivated naturally, matured by artisans
Kelp fishing honours traditional methods
The foundation of Japanese taste is here
The rich taste of Rausu kelp
Rausu kelp is limited and makes up only 1% of domestic kelp.
Produced through natural development in the Shiretoko natural environment, and from an artisan maturation process.
The most distinctive feature is the number of careful steps done by hand.
Raw kelp is reborn as Rausu Kelp after more than 20 steps, such as Shimeri (Wetting) where dried kelp has the night dew applied, or that the rolled kelp is stretched or the pressuring weight process of Anjo (Resting).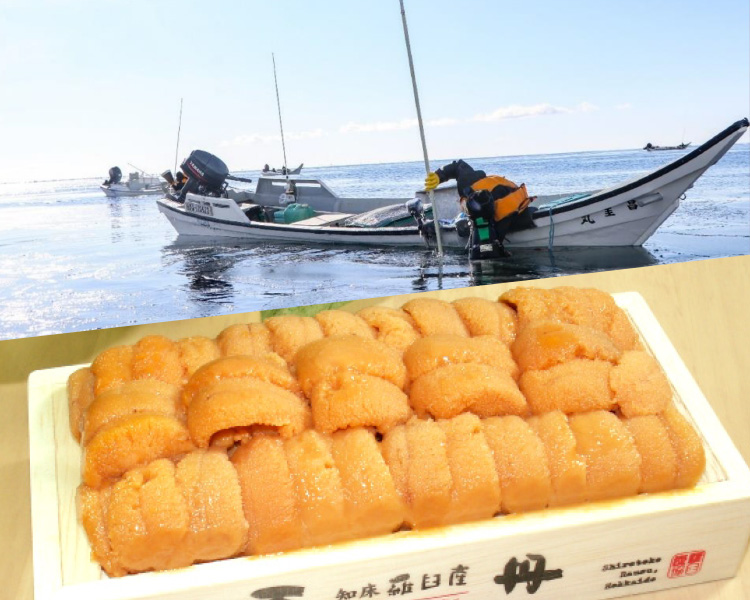 Struggling with a Tamo (landing net)
Generations of expertise, sea urchin fishing
Born in Shiretoko, raised on Rausu kelp
Japan's most luxurious Ezobafun (short-spined) sea urchin
Rausu sea urchin fishing takes place from midwinter to early spring.
The traditional method is used, passed down through the generations
Looking through a glass bottomed box
held in the mouth and using a landing net according to depth to collect sea urchin.
The weather may be stormy,
or the drift ice may be tight.
There are many times
when fishing is impossible as; stormy weather or the tightness of the drift ice etc.
The name "phantom sea urchin" originated because this sea urchin is so rarely encountered.
The Ezobafun sea urchin from Rausu.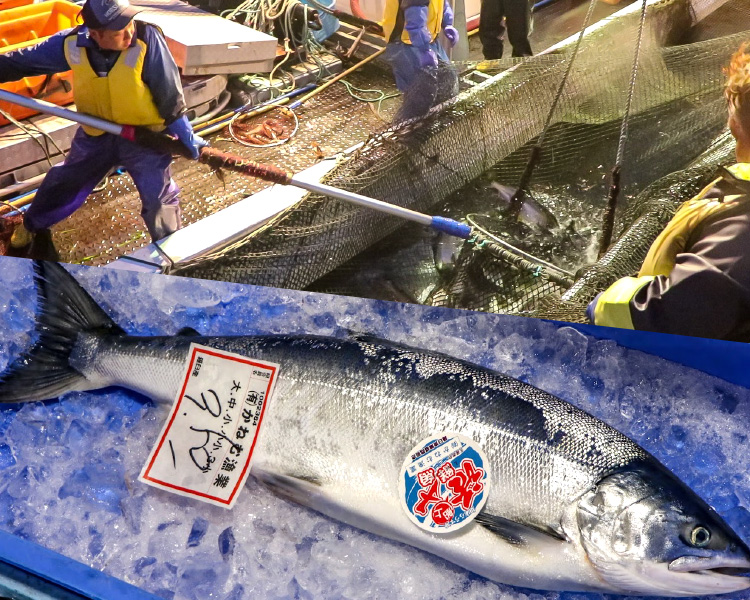 Delivering the taste of the season
Bringing hearts together for set net fishing
Deliciousness from authenticity Autumn salmon
Autumn salmon fishing, which is the Autumn tradition in Rausu.
After three weeks of land work, fishermen can finally go fishing.
Going fishing before dawn and winding in the net with the crucial timing only skilled fishermen.
As freshness is the key, fish are immediately killed on the ship (called Ikejime).
Through the use of deep sea water, freshness is ensured during the cleaning process. Furthermore, the auction of the caught fish is carried out instantly. After the auctions conclusion, the fish is distributed the restaurants and factories, all within two hours.
All of this is done for the sake of freshness.
This unique fishing process delivers the seasonal taste of Rausu.
The taste of the authentic autumn salmon is something that can only the understood by trying it.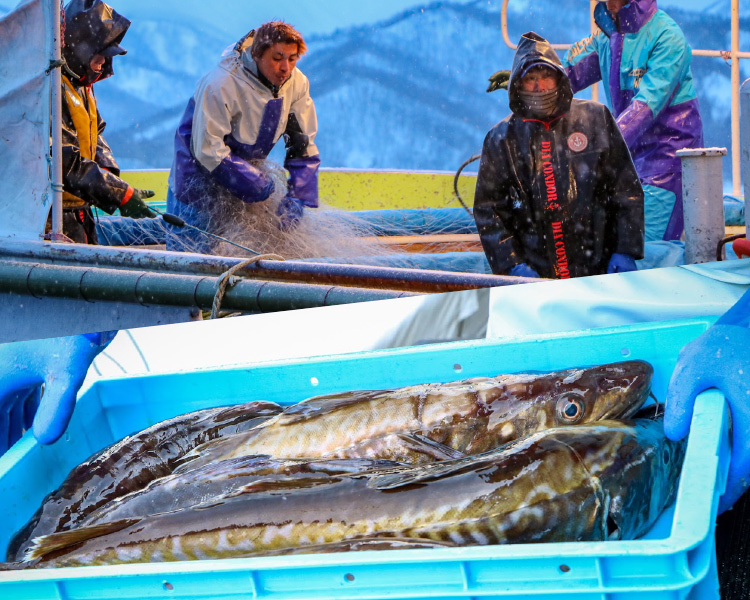 The expanse of nature
Fishermen's life-threatening fight
Gill net fishing
Cod fish that is indispensable on Japanese dining tables
Sometimes fishermen are hit by big waves, sometimes they are swamped by a freezing cold ocean.
This is everyday life in Rausu, for those who deal with nature.
If you make a mistake, you may be swept into the ocean. Despite this, fishermen continue to fish to support the Japanese dining table.
Rausu's cold cod is tasty and is full of Tachi (milt) and Kokko (roe), everything is delicious. Rausu Madara (pacific cod) is an all-purpose fish that is indispensable on the Japanese dining table.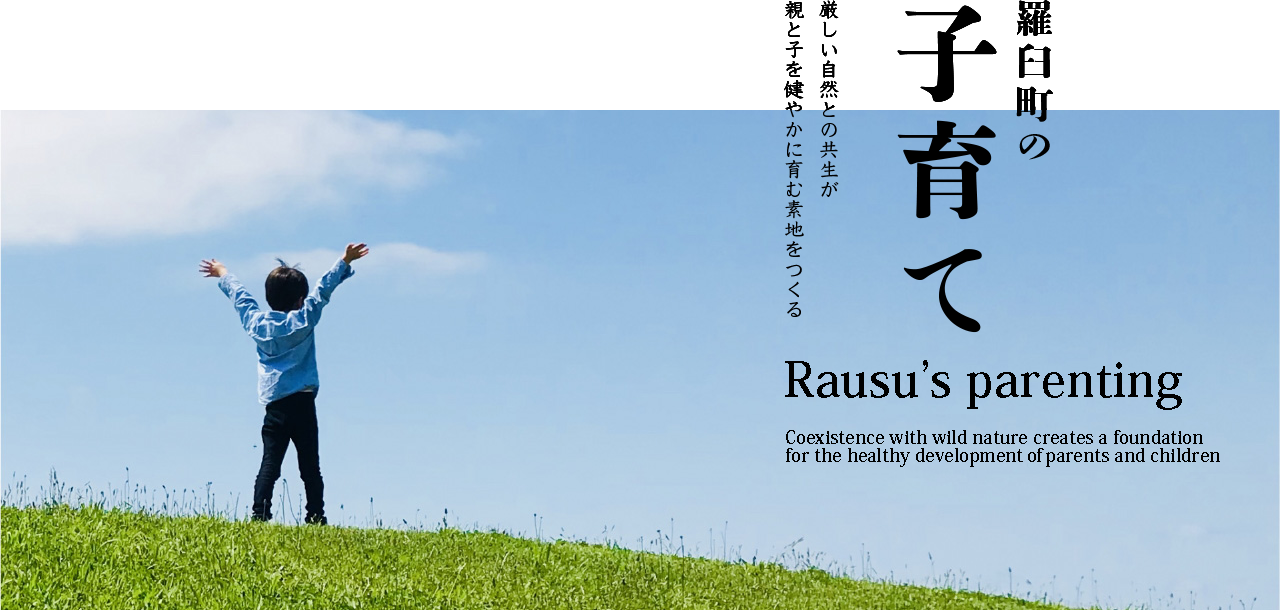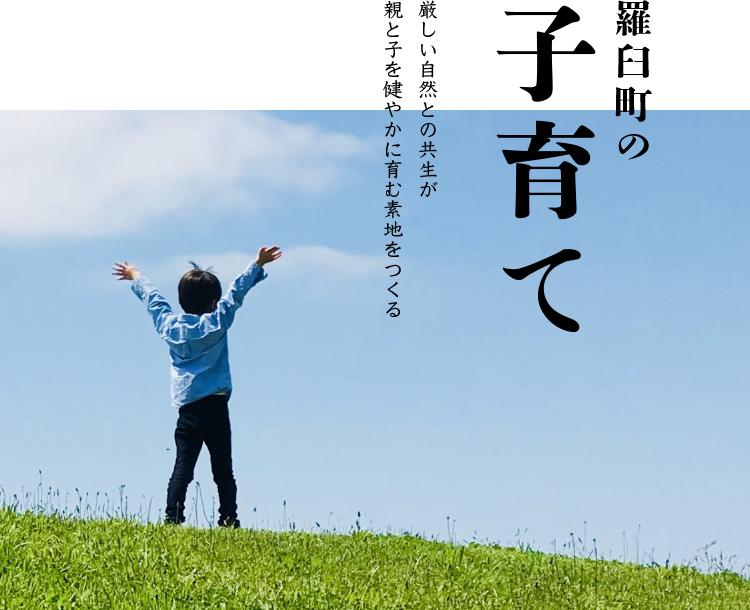 The birth rate in Rausu is less than in neighbouring municipalities,
that's why the town can take care of every single person and works closely with the people to support child-rearing.
There are health nurses, dietitians, and dental hygienists in the same place at the town hall, and a consultation room is available so that people who are pregnant or raising children can have detailed individual consultations.
In addition, we have established a system that responds to the geographical and climatic conditions of Rausu,
such as accommodation expense subsidies when bad weather is encountered, during pregnancy check-ups outside the town,
and cooperation with medical institutions and fire departments during the pregnancy period in preparation for any disasters.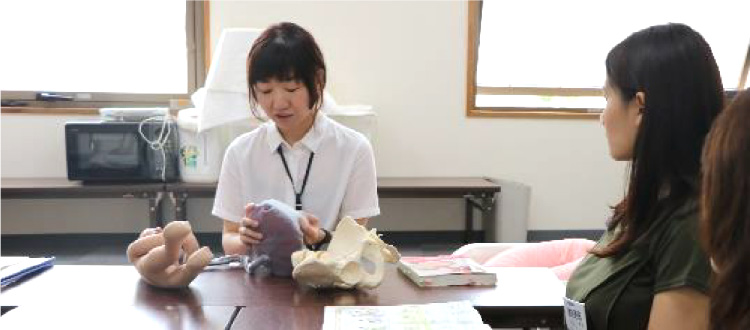 Careful support for parents and children
To be able to give birth safely and comfortably, we are providing a consultation with specialists for pregnant women twice during the pregnancy period. We are also providing careful support to parents and children by allowing parents to freely come for a check-up or consultation at any time.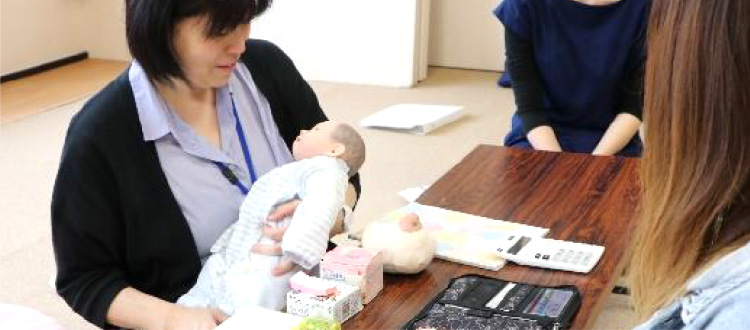 Supporting mums after childbirth
Postnatal Care System
We have started a system where you can receive support from a midwife on how to care for babies and children, including but not limited to information such as how to deal with difficulties in feeding. We have received good reviews from people who have used this system.
Welcoming feeling
Childcare Support Centre
There are two nursery teachers at all times, and the nursery teachers play with children and provide daily consultation regarding childcare. In addition, we have devised a variety of events, seasonal events, mom's refreshment business, dad's day, etc. so you can always feel free to use the centre.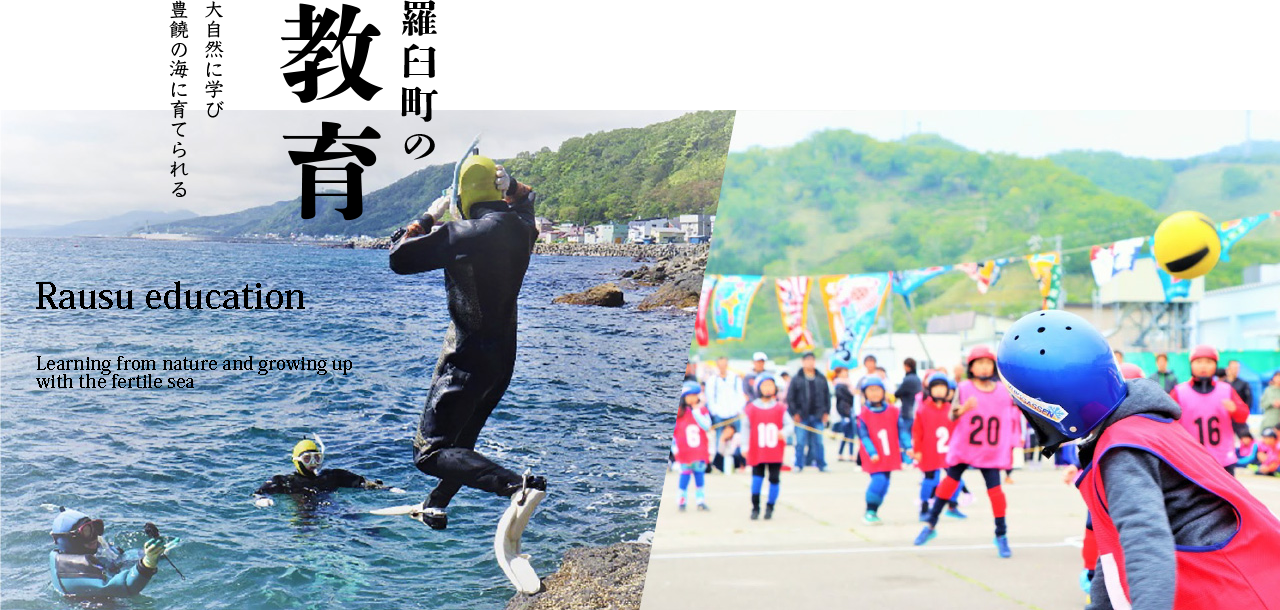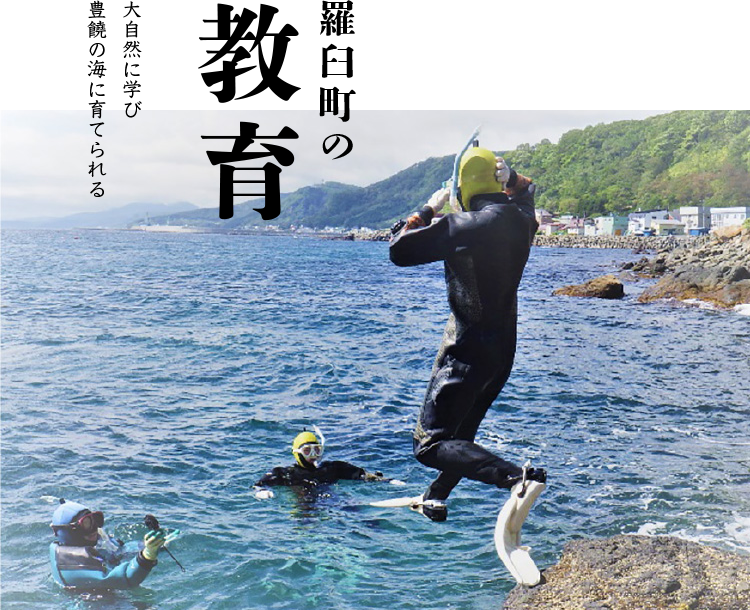 By learning about the formation and circulation of the natural world and local issues in the natural environment of our World Heritage Site,
the education system in Rausu cultivates children who can act to solve natural and regional issues to realize a sustainable society and future.
We are working to develop adults who can think holistically about the entire world to confront many issues,
such as the shortage of workers due to a declining birthrate, an ageing population, depopulation, and various problems caused by global climate change,
which are also nationwide problems.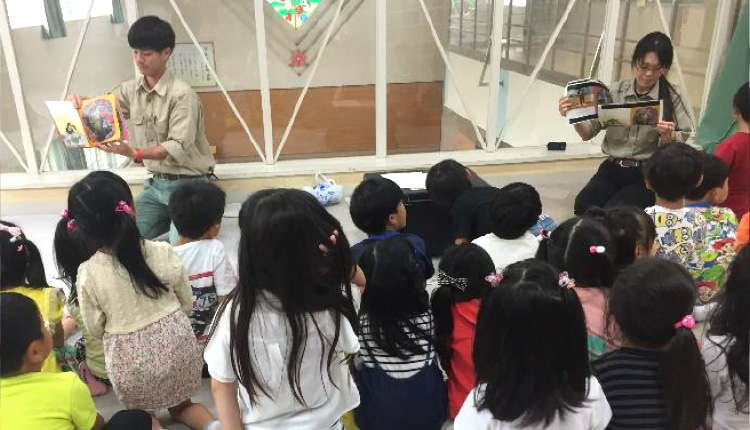 Learning local characteristics
To aim to foster global social resources
School education
In Rausu, we are working on an integrated education for children at the elementary, middle and high school level in order to promote a consistent education from childhood to 18 years of age. All schools from kindergarten to high school are registered with UNESCO Schools and carry out ESD (Education for Sustainable Development). In addition, "Shiretoko learning"; a course teaching nature, industry, and social issues unique to Rausu, is incorporated into this integrated education, which is an education that you can only obtain in Rausu, Shiretoko, the World Natural Heritage Site.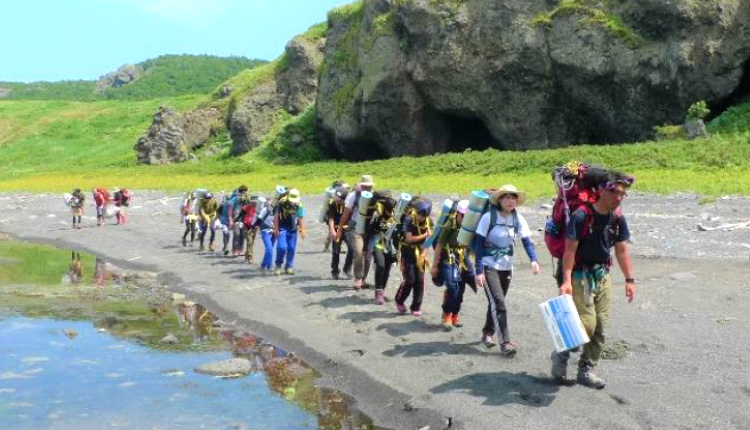 Respect in local communities
Social education that encourages resilience
The Furusato Shonen (Local Children) expedition where children spend 5 nights and 6 days in nature. There is no road, and no electricity, no bath. Children carry a special backpack and walk to the base camp. In this place where there are no games and no school teachers, children can become aware of the everyday blessings of their environment, and become aware of other environmental issues through various shared experiences.
To be able to support these children and collaborate with them in the future, the Board of Education is preparing a platform for them to be able to collaborate with companies outside Rausu, to learn about local community issues and future issues, and also so that the children can work on local art and cultural projects.